iWellness Exam and Angio-iWellness Exam
---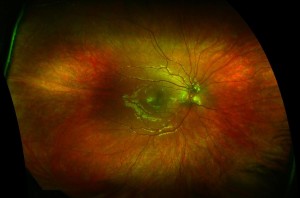 Annual eye exams are vital to maintaining your vision and overall health. In our continuing efforts to bring the most advanced technology available to our patients, Virginia Eyecare Center is proud to announce the inclusion of the iWellness Exam as an important part of our complete eye examination. Similar to an MRI or CT scan for the eye, the iWellness Exam uses spectral domain optical coherence tomography (SD-OCT) to produce cross-sectional images of the retinal layers — which is a sensitive area of the back of your eye – in a matter of seconds.
Beginning in the summer of 2022, we now offer the Angio-iWellness Exam as well, which provides an even more thorough assessment of the retina, imaging the retinal blood flow. We recommend the Angio-iWellness for those patients with diabetes, high blood pressure, high cholesterol, rheumatological disease, have a family history or diagnosis of age-related macular degeneration, or are age 60 and over.
Many eye problems can develop without warning and progress without symptoms. In early stages, you may not even notice a change in your vision. But sight threatening conditions and diseases such as macular degeneration, glaucoma, diabetic retinopathy and others can be detected with a thorough exam of the retina, including the iWellness Exam.
The iWellness Exam provides:
Detailed SD-OCT scan reports to show a healthy eye or detect early signs of disease.
Thickness maps of the retina and ganglion cell complex giving your doctor detailed information simply not available with other methods.
The opportunity for you to view and discuss your iWellness Exam scan reports with your doctor at the time of your exam.
A permanent record for your file, which allows your doctor to compare your iWellnessExam scan reports each year to look for changes.
The iWellness Exam also includes an Optomap image of the retina.
The Angio-iWellness Exam provides:
All of the above as well as a retinal blood flow analysis which can provide insight into your overall health.
The iWellness Exam is fast, easy, comfortable for patients of all ages and provides your doctor with valuable information about the health of your most precious gift – your sight.
Virginia Eyecare Center has the experience and equipment necessary to provide treatment, consultation and referrals at our office in Burke. Request an appointment with your eye care provider, and we will be in touch with you shortly.