Nutritional Supplements
Virginia Eyecare Center offers nutritional supplementation for Age-Related Macular Degeneration, Dry Eye Syndrome, Floaters, and Diabetic Retinopathy
Macular Degeneration
MacuHealth is the only nutritional vision supplement containing all three macular carotenoids: Lutein, Meso-Zeaxanthin and Zeaxanthin in the same 10:10:2 ratio that makes up macular pigment. MacuHealth is specially formulated and clinically proven to rebuild and maximize macular pigment over a lifetime, resulting in enhanced visual performance and aid in the treatment and prevention of age-related macular degeneration. We recommend Macuhealth for those with early macular degeneration or a family history of macular degeneration. For those with intermediate Macular Degeneration or greater, we recommend genetic testing, performed at our office with a simple cheek swab, before starting a Macular Degeneration vitamin to determine both your risk level and whether you will benefit from the formula containing zinc or the formula without zinc.
If zinc is safe for you, we recommend Macuhealth Plus, which provides the formulation from the newest National Institutes of Health AREDS 2 study in addition to the macular carotenoids provided by Macuhealth.
For those who should not take high levels of zinc, we recommend VitEyes AREDS 2 zinc free in addition to Macuhealth. We do not recommend starting any Macular Degeneration vitamin unless it is specifically recommended by your eye doctor.
When taken as prescribed, these vitamins can aid in the decreased progression of Age-Related Macular Degeneration.
Macuhealth
Macuhealth Plus
Viteyes
Dry Eye Syndrome
Physician Recommended Nutriceuticals (PRN) Dry Eye Omega Benefits is an Omega 3 Fatty Acid Fish Oil supplement that may help reduce the chronic inflammation that is a hallmark of Dry Eye Syndrome. We carry a pill and a liquid formulation with a recommended daily dose of 3 pills/day or 1 teaspoon/day. This is a medical grade Omega 3 that has been studied in dry eye and has the correct ratio of EPA and DHA to treat dry eyes. It does not cause fishy burps and stomach upset like over the counter fish oil since it is de-esterfied.
DE Liquid
DE 3
Floaters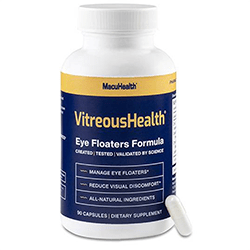 VitreousHealth is the first scientifically proven supplement formulated to reduce the severity of floaters. Its patented blend of antioxidants nourishes the eye to protect it against oxidative stress and disease.
Between the lens and retina is the vitreous, a clear gel-like substance made up of water, hyaluronic acid and collagen fibers. This part of the eye needs specific antioxidants to protect it against oxidative stress and disease. Research shows the vitreous loses these nutrients over time, causing the collagen fibers inside it to clump together. These clumps, called floaters, cast shadows on the retina, disrupting your vision.
VitreousHealth is the first scientifically proven supplement to manage this irritating condition, offering patients a natural option to reduce the symptoms of floaters. Its patented blend replenishes the vitreous with the antioxidants needed to reduce the severity of floaters.
Diabetic Retinopathy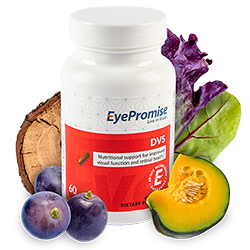 EyePromise® DVS is a supplement that provides nutritional support to improve visual function and retinal health in patients with diabetes without impacting normal blood sugar levels. This vitamin includes natural ingredients chosen for their proven ability to improve color vision, peripheral vision, and contrast sensitivity in people with diabetes. Additionally, these nutrients have been shown to promote and support cardiovascular health.