Dr. Weigel filling in during Dr. Huebner maternity leave
We are pleased to have Dr. Jen Weigel helping us out April-June while Dr. Huebner is home with her baby!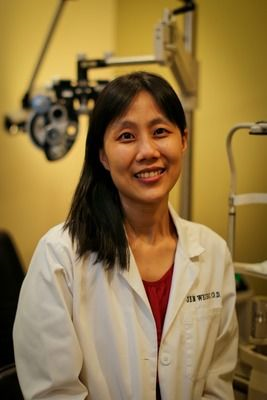 Dr. Jen Weigel earned a B.A. in Biology from the University of Texas at Austin in 2000 and graduated Cum Laude from the Southern College of Optometry in Memphis, TN, in 2004. She then completed a residency in ocular disease management with Omni Eye Specialists in Denver, CO, in 2005. She has practiced in a variety of settings, including a non-profit clinic, private practice, refractive surgery co-management, and consultative optometry. She served as Clinical Director of TLC Laser Eye Center Tysons Corner for over 9 years and is an expert on refractive surgery co-management Additionally, Dr. Weigel has been a sub-investigator in clinical trials, including a corneal cross-linking FDA trial with Dr. Andrew Holzman. She is proficient in Spanish and Mandarin Chinese.
Dr. Weigel is a member of the American Optometric Association and the Northern Virginia Optometric Society. Dr. Weigel served as President of the Virginia Optometric Association from 2018-2019. She served on the Board of Trustees for the Virginia Optometric Association for 11 years and is currently the Membership Committee Chair. She is the 2019 VOA Optometrist of the Year and the 2011 VOA Vanguard (Young OD) of the Year. Additionally, she is a Fellow in both the American Academy of Optometry and the Virginia Academy of Optometry. She has been an Examiner for the National Board of Examiners in Optometry and is currently a Fellow in the American Academy of Optometry. She is a two-term Past President of the Kiwanis Club of Manassas and is currently a member of the Kiwanis Club of Tysons Corner/McLean.
In her spare time, Dr. Weigel enjoys cooking, crafts, and buying books. She lives in Fairfax County with her husband, a Professor at George Mason University, and their energetic dog Sergeant, who was happily adopted.